KAMBARA TUG&MARINE SERVICES Co., Ltd.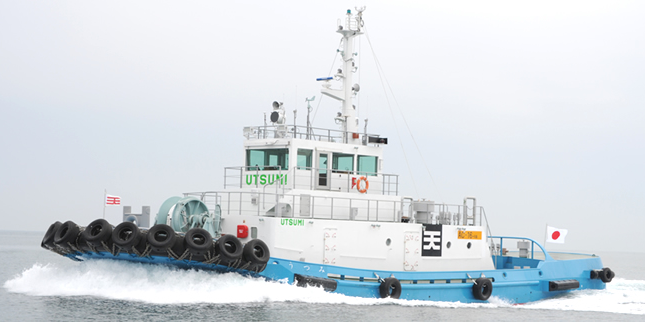 Towage & Marine Transport
Deceptively small tugboats possess exceptionally strong horsepower which allows them to push and pull much larger vessels.
Tugboats provide a service which is essential for ensuring the safety of medium to large sized ships, including during the launching of newly constructed ships, entering and exiting ports during stormy weather, when ship navigation is difficult, and in a variety of other situations.
A high degree of skill is always required of ship operators on the ocean with its continually-changing conditions, and KAMBARA TUG&MARINE SERVICES Co., Ltd. can satisfy a diverse range of needs with its many years of expertise and proven track record.
Owned vessels
Vessel details
| Ship name | Gross tonnage (T) | Maximum output (PS) |
| --- | --- | --- |
| Hojin Maru | 252 | 4,400 |
| Shojin Maru | 237 | 4,000 |
| Hosho Maru | 282 | 3,600 |
| Tensho Maru No.5 | 239 | 3,400 |
| Sakae Maru | 260 | 3,200 |
| Utsumi | 167 | 3,200 |
| Tenjo Maru No.8 | 127 | 1,600 |
| Tensho Maru | 172 | 1,500 |
Barge details
| Ship name | D/W | Dimensions (M) |
| --- | --- | --- |
| Tsuneishi No. 1 | 1,500 | 45×16×3.0 |
| Tsuneishi No. 2 | 1,200 | 40×16×2.25 |
| Tsuneishi No. 3 | 1,200 | 40×16×2.5 |
| Tsuneishi No. 5 | 3,000 | 60×22×3.0 |
| Tsuneishi No. 6 | 1,200 | 40×16×2.5 |
| Tsuneishi No. 7 | 850 | 36×13.5×2.5 |
| Tsuneishi No. 10 | 2,000 | 50×18×3.0 |
| Tsuneishi No. 11 | 800 | 35×15×2.5 |
| Tsuneishi No. 12 | 1,400 | 45×16×2.5 |
| Tsuneishi No. 15 | 5,000 | 70×26×3.0 |
| Tsuneishi No. 20 | 3,000 | 60×22×3.0 |
| Tsuneishi No. 25 | 3,000 | 60×22×3.5 |
| T1110 | 850 | 33×12×2.53 |
| T1101 | 1,200 | 40×16×2.25 |
Towage & marine transport related inquiries

(81)84-987-2313
Click here for website